Organizing an event is not an easy task, but we have had a team of passionate individuals in this field for over decades now and understand the ins and about of the industry. In addition, our professionals have vast experience in meeting all the niche needs and demands. 
DG Events – Primary Tent Houses in Gurgaon
DG Events is known to be a prominent name in the industry for tent houses and decorations. But, when it comes to offering the most creative tent houses in Delhi/NCR, the name of DG Events pops up at the front. We offer the most promising experiencing in both managing as well as planning various types of events, including personal events (weddings, birthday parties, anniversaries) and corporate events. 
360 Degrees Tent House Services:
 Hosting and conducting an event take considerable resources to be in place. Our team caters to all prior products such as wedding tents, heating and cooling systems, kitchen equipment, cutlery, crockeries, etc.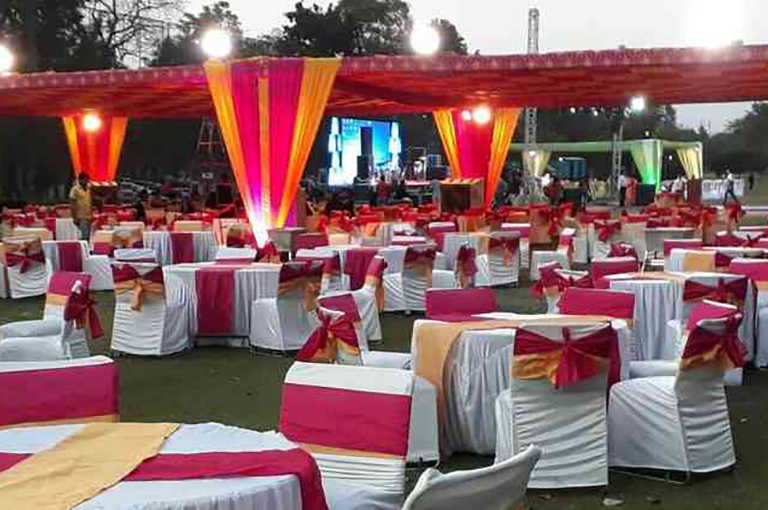 Why you can rely on DG Events for Tent House Services:
 Although there are plenty of compelling reasons for choosing DG Events, the most prominent reasons why you can choose DG events is:
 

Reliable Team:
 DG Events has a team of highly experienced and passionate individuals who have been in this business and industry for years. The experts here are just a call away, literally. Clients can count on us throughout, and we are always there to help at every step.
 

Pro-Active Process:
 During events, a lot happens, and a lot of planning takes place. Hence, amidst so much chaos, there can be many things that might get missed out. But when you have the back of experts at DG Events, you do not need to worry. Your events will be sorted, and you will get premium tent house services.
 

Affordable: 
One of the biggest fear people have while conducting events is the cost. However, the biggest USP of DG Events is the costing aspect. Therefore, you can expect affordable and competitive prices from our team. 
 Connect with our team to get the best tent house services.